SERVICES
NOTICE: This Site is under construction.
- Client Testimonial
Abingdon Cleaning Specialists accomplished the impossible! I leased office space with parquet flooring that was stained, dull and badly needed refinishing. ACS managed to make the floors look fantastic without the expense of having them resurfaced. I never expected the results they were able to accomplish in such a short time. I consider them my "Go To" guys for all my cleaning needs.
Mikki Barker, Assoc. Dir. of Regional Operations
VECTEC
Contact us for a personalized quote at (276) 356-1818 or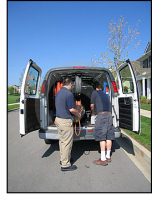 Abingdon Cleaning Specialists...
your first choice for professional cleaning.
For more than 20 years Abingdon Cleaning Specialists has provided the highest quality cleaning services as well as property management and commercial building services.
We focus our services in Abingdon, Marion, and Bristol, Virginia. Yet Abingdon Cleaning Specialists offers a full-range of contract and on-demand cleaning specialties throughout the Tri-Cites Area as well as the New River Valley, Southwest Virginia & Upper East Tennessee.
Abingdon Cleaning Specialists provides:
Complete Carpet Care.
Office cleaning
Certified in Water Restoration and Removal for Carpets and hard floor coverings.
Full Construction Cleanup, including windows, all types of floor coverings, walls.
Final clean up.
Emergency Cleaning from fires, floods or other disasters.
Stripping and Re-Waxing Floors.
All types Window Cleaning including high rise and construction.
Grease Hood Cleaning
Ceramic Tile & Grout Restoration
Pressure Washing of all type sidewalk
Why Use Abingdon Cleaning Specialists?
Affordable Cleaning Services
Let Abingdon Cleaning Specialists customize a cleaning program to suit your individual needs and your budget. Whether you require daily, weekly or monthly service, or just one-time only janitorial service, you can count on Abingdon Cleaning Specialists to provide you with professional service at reasonable rates.
Superior Cleaning Services -- Expect a higher level
If you're ready for a spotless office, glossy floors and friendly technicians call the cleaning business with a spotless reputation. All of Abingdon Cleaning Specialists technicians are specially trained in the most modern and effective cleaning techniques. Our professionals are also trained in product usage and safety procedures. We work diligently to ensure that all cleaning service plans are performed to the highest industry standard.
Experience Complete Satisfaction
Abingdon Cleaning Specialists are not satisfied with our cleaning services unless you are! To guarantee the highest level of service, we utilize quality control programs which include onsite inspections and customer service visits. We constantly monitor our work and should any area fail to meet our strict cleaning standards, it will be corrected immediately. And of course, we always encourage customer communication and use your input to heighten our level of cleaning services.
Abingdon Cleaning Specialists
offers additional benefits for your peace of mind.
Abingdon Cleaning Specialists
is fully insured and bonded, providing liability and property damage coverage as well as employee bonding and all other applicable forms of insurance coverage.
Abingdon Cleaning Specialists
are SWaM certified and licsenced for all types of Federal, State and Local Government Contracts. All employees are screened for your protection. They are neat in appearance and carry proper company identification. To assist you in the event of an emergency, we can be reached via telephone 24-hours-a-day at (276) 356-1818